Discussion Starter
•
#1
•
Hi Guys
i picked up a CBR250rr bike a couple months back working on it has been on and off as im still learning how these things work.
problem is the bike won't start, yes i have read multiple forums, and service manuals and i still haven't had any luck.
what i've done so far...
- Inspect spark plugs
- Attempted to clean carbs (not feeling 100% confident that i did a good job on this)
- Emptied fuel tank - put new fuel in with a cap of Methalayted spirits
- Sprayed 'Start Ya Bastard' into the carby trumpets
- Removed Auto fuel cock and cleaned it out ensuring none of the tubes or passage ways were blocked
the most noticeable difference when trying to start it now is after i spray 'Start ya bastard' i can hear popping and i see smoke coming out of the exhaust it almost wants to start but just isnt enough...
im feeling as though my attempt at cleaning my carbies might be at fault as i took it all apart and just let it soak in clean petrol im sure not sure if i applied the right turns and so on for the jets/screws when it came to putting it all back together, if anyone could elaborate on this that would be great!
and also i just want to double check that this brown nipple is where i connect my fuel line coming from the auto fuel cock(tank) right?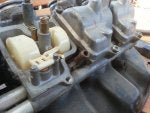 (this is a spare carby)