Hey guys my name is Sam
Instagram: hondamc22
Nice to meet you all. I currently joined this forum not too long ago after i bought my first cbr250RR MC22. Im here to share my bike and my progress with everyone. I hope to get some nice feedback and help from everyone in this community. Anyways lets get to it
Currently Own:
2001 CBR 250RR MC22 From Japan
The bike was imported to HongKong during 2010 im the second owner. The bike came quite stock was running but was sitting in a parking lot for 6 years. The owner barely rode it and kept it as a collectors bike. He told me he finally wanted to get rid of it cause he bought a new bike and had no room due to the high cost of parking and renting a spot in HongKong. I bought it bike off the old owner for 25,000 HKD which is equivalent to 3,200$ USD.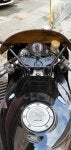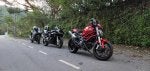 After i bought the bike I brought it to a friends shop down Hunghom Bailey Street in Hong Kong to get the biek maintenance. The owner of the store is quite famous he does a lot of custom airbrush work for helmets and bikes and also does custom mods and work on bikes. The owner use to tune and mod bikes for race teams in Macau and HongKong during the 80s-90s. Due to HongKong not having a race track the owner is currently just fixing bikes and some custom mods for his clients and does alot of airbrush work for famous HongKong TV Stars and racers in Macau, Hong Kong, and China.
After i got the bike maintenanced I decided to do my first few mods. I really hated the black fairing so i told the owner to help me repaint my fairings, gas tank, and rims to Repsol theme.