Discussion Starter
·
#1
·
Ok this is my last effort to sell my K6 before I ship it to Oz in about a month.
She is mint & well looked after. Oil & filters have just been changed as well as spark plugs & brake fluid. 9500 miles on the clock & fresh Pilot Power 2CT's with 190/55 rear for ultimate handling/grip. Bike is on a UK plate.
Extra's include:
- Genuine Suzuki/Yoshimura Titanium Tri-Oval exhaust with SET valve still in place (keeps idle/low RPM uxhaust noise down & then opens for full power/noise when going quick)
- Braking Wavey disks front & rear with matching HH pads
- Tinted double bubble screen
- PC3 USB
- Gold Anodised rear 43T Sprocket
- Colour matched rear seat cowl
- Fender eliminator & small number plate bracket
- Original exhaust, screen & rear sprocket included
The bike is just plain awesome with legendary performance. The engine needs no introduction & is putting out a genuine 165bhp at the rear wheel. Power is everywhere & it is maybe the best litre engine I have ever tested (Have ridden most of the litre bikes at this stage save for the Beemer). Power hits from 3000RPM like a sledge hammer all the way to the redline & the noise is just intoxicating - best exhuast/induction combo around.
Brakes are brutal & as good as the best I have ever experienced on any bike period. The wavey disks offer genuine 1 finger maximum braking at all speeds. Bite, feel, progressiveness & power - they have it all.
Handling is fantasic too thanks to the well liked Suzuki chassis & Pilot Power 2CT combo. Grip is not an issue, wet or dry, & this bike really devours the road at any speed. To say it is quick is an understatement - it is quick all the time without even trying.
Everything works properly & the bike has NO mechanical/electrical gremlins at all.
I am not messin or putting on the salesman act when I say that this is the best bike I have ever owned & ever ridden. Anyone who had a go of it can vouch for me. I am gutted to be in the position to try & sell it but also I need to be realistic too..
PRICE: 6000 EUR cash (539 EUR to clear customs duty)
CONTACT Karl 087 6545093 or
[email protected]
Would appreciate if you guys could spread the word out... Will put it up in DoneDeal & Biker.ie too
Any questions just ask...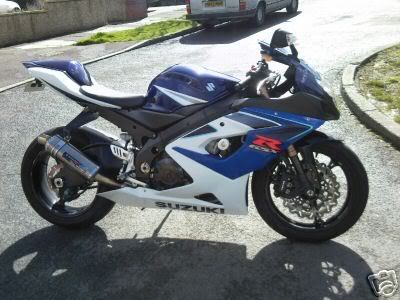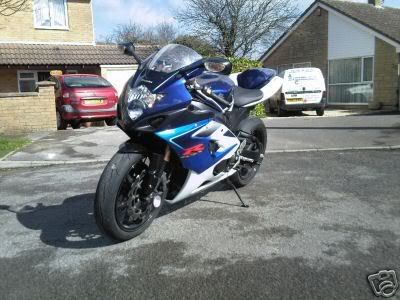 http://img.photobucket.com/albums/v362/kenkdit22/My%20Gixxer%20K6/050c_1.jpg