Discussion Starter
·
#1
·
Its not finished so Im throwing it up here!
I have just bought a very poor condition Aprilia rs125.
I spent 450e on it and I intend on putting it back on the road.
It needs alot of work but the parts are cheap, another 250e shouldhave her right.
So far she needs
forks rebuilt,
new battery,
plug,
air filter,
carb rebuild,
top end rebuild,
a polish,
a clean and a genneral tidy up as some butcher decided he was a good mechanic.
I hope to have this perfect within two months and I may even respray and resticker then laquer.
I'll update this as I go.
She wasn't starting when I bought her but she wasn't seized.
The battery is for the bin but I did manage to get her to run, the starter switch was corroded which took some time to figure out.
She runs and idles but the carb is leaking.
I will start to strip her tonight and go from there.
This WILL break my heart but I love 2strokes!
This is the for sale add, the fairings are 10 times worse than they look.
http://www.donedeal.ie/for-sale/motorbikes/1256866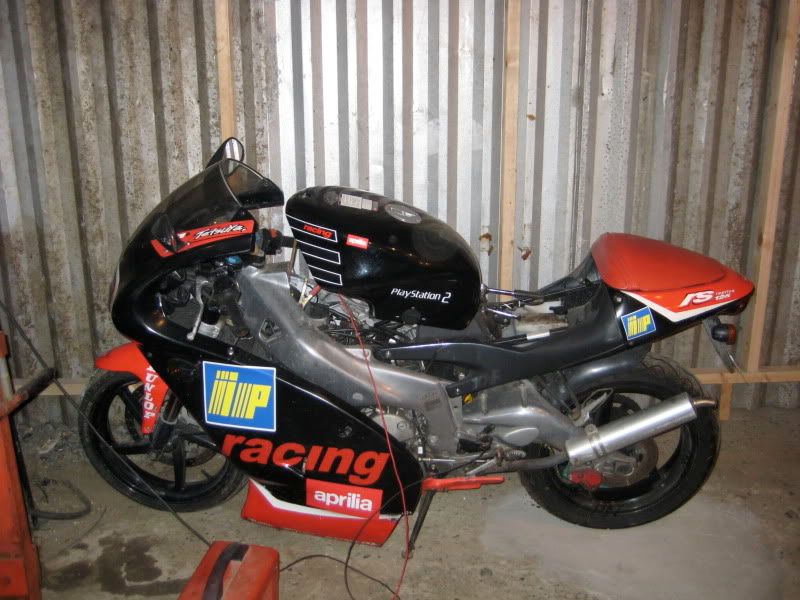 Wish me Luck I'm gonna need it!
Car mirrors = Incident trophies! 1 and counting!
[hr]
Cheers crash Dummy!
Can you Explain the above in laymans for me please?
You are my new best friend! Could I ask for a few photos from you?
There is a heap of parts missing off mine and i need to get pics of them so I know what they look like?
Can you pic the bit where the side fairings meet the frame?I have no fairing spacers.
Also when sitting on the bike, the right hand side bottom fairing mount/bracket lower.
I seem to be missing this fairing stay braket, near the exhaust.
Do you have any good links to sites?
Thanks, John.
PIC UPDATE
The fairings are in a sorry state.
One has a poor repair, and there is all sorts of strange stickers, paint and TIPPEX!!![:*]
Some one really did there best to mutalate this machine!
Here is the other side
Front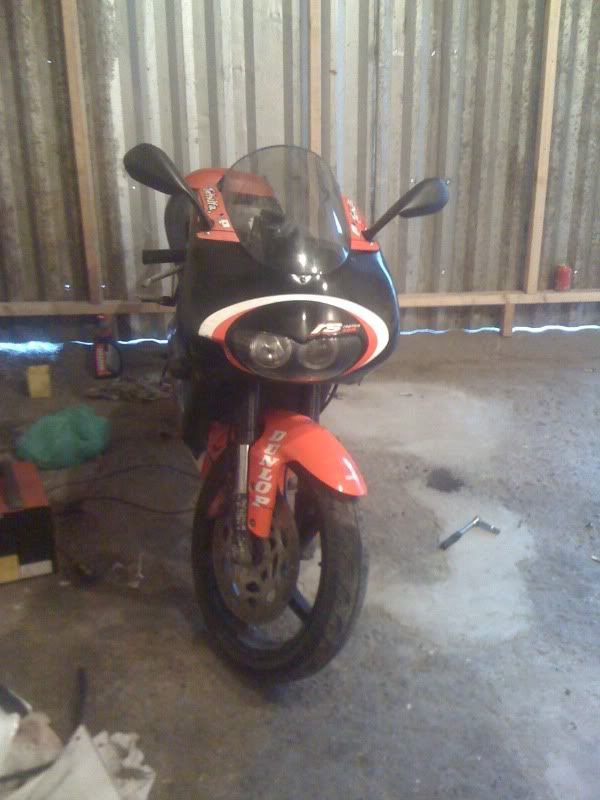 A state of Undress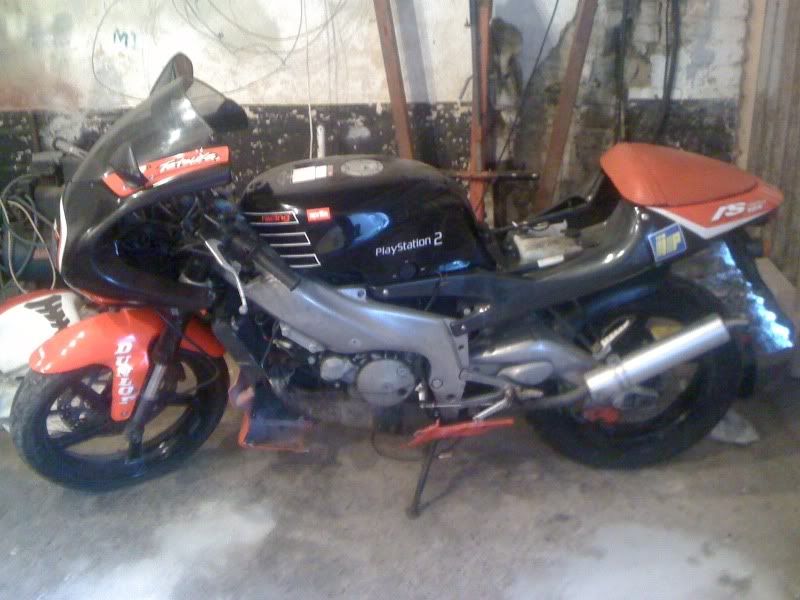 So only a little Prgress tonight, more of a look over.
I managed to fix the starter button, It had some corrosion on it so a small bit of sand paper and some grease fixed that.
If it wasn't for the fact that reasembling the button into the controls took me 45mins it would have been a succseful job.
She started with the aid of a battery charger and idled.
I inspected the front brake and it looks like its in pretty bad shape.
The pads are at the bare minimum and im not sure if the pistons are salvageble but they are all moving![8D]
The red paint is starting to peel so they may have to be repainted or powdercoated depending on funds.
The frame has some 1mm deep scratches on the right hand side that WONT pollish out so I may look or make some frame protectors.
There are alot of fairing bolts and brackets missing and all the cables will have to be inspcted.
The plan for tommorow is to sand and VHT the Exhaust.
And make an extensive list of what needs doing.
Im not Delving in to much until I get my haynes manual and parts which may be held up due to the lack of Aeroplanes![B)]
Car mirrors = Incident trophies! 1 and counting!